Project Proposal - Bakery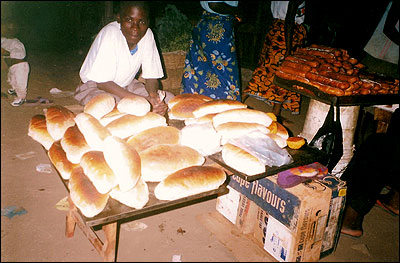 Douglas's son at the local market selling the bread.
My name is Chanda Douglas. I am a Zambian aged 33 years and married with 8 Children inclusive of double orphaned children whom I have adopted because my 2 brothers died due to Hiv/Aids.
I am in bakery business. I am using my home and I have been using my home and I have been baking since 1998 to support my family. However I fail to make ends meet because my capital is insufficient i.e. the equipment and ingredients are not enough to meet my customers' demands. I use an improvised oven as on Photo which uses a lot of charcoal and my hands to mix. I have tried to source for fund to buy equipment through working here and there but I have failed.
I want to open my own bakery because I enjoy baking and I can support my family through this business, if only I can source funds.
I have found a central place in a border town in my country where there is no bakery and it is very busy with people buying and selling clothes e.t.c. It's a trading place for countries like Congo DR, Tanzania, Malawi and my Country Zambia. I surveyed and found that there is a great demand for Bakery products and I will not have competitors as people there have no interest in bakery business.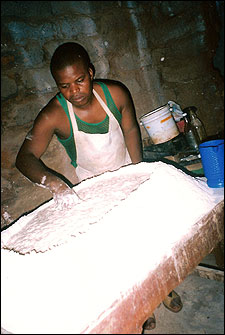 I would like to buy equipment like:
1x industrial Oven
K 20,000,000.00
1X INDSTRIAL MIXER
K 10,000,000.00
1X DEEP FRYER
K 5,000,000.00
1X FOOD WARMER
K 1,200,000.00
1X DEEP FREEZER
K 3,000,000.00
1X BREAD SLICER
K 2,500,000.00
1X STEEL BAKERY TABLES
K 2,000,000.00
8. 1X COOKER
K 2,000,000.00
And other small accessories e.g. wrapping plastic phoning bags, baking
Trays, scales Knives
K 5,000,000.00
The ingredients I would need are as follows:
| | | |
| --- | --- | --- |
| a) 100X | 50Kg FLOUR | K15,000,000.00 |
| b) 10X | 20Kg YEAST | K 7,500,000.00 |
| c) 40X | 2Kg BAKING POWDER | K 800,000.00 |
| d) 5X | 50Kg ICING SUGAR | K 750,000.00 |
| e) 5X | 50Kg SUGAR | K 750,000.00 |
| f) 5X | 50Kg SALT | K 250,000.00 |
| g) 10X | 25Kg FAT | K 2,500,000.00 |
| Food colours and flavors | | K 500,000.00 |
| Rent of Building 1 year | | K 12,000,000.00 |
The approximate loan would be K the total above. I plan to pay back this loan in 3 years in K83,000,000 installments because I know I will be baking not less than K10,000,000 per month. I will employ 9 workers to help me run this business.
Thank you
(NOTE: The total for Douglas' proposal is approximately $25,000 USD)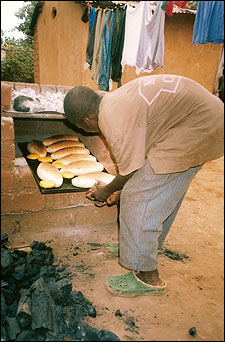 Douglas using his homemade,
outdoor over.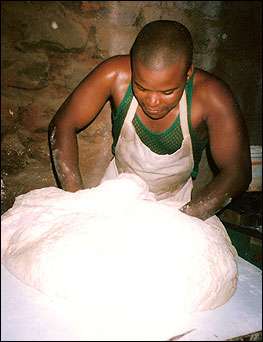 Douglas kneading the dough.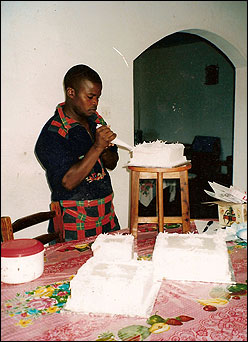 Douglas is often commissioned to make cakes for weddings and birthdays.